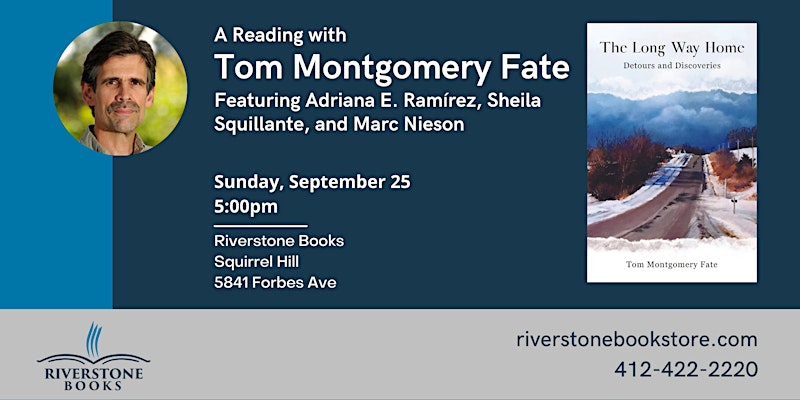 Four fabulous authors unite to celebrate Tom Montgomery Fate's new travel memoir THE LONG WAY HOME
In a travel memoir that ventures from his smalltown upbringing to vastly different cultures around the globe, Tom Montgomery Fate comes to define "home" not as a physical location, but as a way of belonging.
"Migrating birds have an internal compass that allows them to home their way back to their nesting place each spring," he writes. "For birds, home is both verb and noun—both journey and destination." The same is true for Fate. Whether he is bobbing in a canoe in the freezing rain with his son on a Canadian lake, praying with Lakota elders in a sweat lodge in South Dakota, or teaching English in a remote Filipino village, these are not stories of arrival. They are detours of discovery, a spiritual wayfinding through the wilderness of time and memory.
Tom Montgomery Fate is a professor emeritus at College DuPage in Glen Ellyn, Illinois, where he taught creative writing and literature courses for more than thirty years. He is the author of six nonfiction books—most recently The Long Way Home: Detours & Discoveries, and Cabin Fever: A Suburban Father's Search for the Wild. His essays have appeared in the Chicago Tribune, Boston Globe, Orion, and The Iowa Review, among others. And they have often aired on NPR and Chicago Public Radio.
Adriana E. Ramírez is a Mexican-Colombian writer, critic, and performance poet based in Pittsburgh. She won the inaugural PEN/Fusion Emerging Writers Prize in 2015 for her novella-length work of nonfiction, Dead Boys. Her reviews, essays, and poems have also appeared in The Atlantic, The Los Angeles Times, and Literary Hub among others. Once a nationally ranked slam poet, she founded the infamous Nasty Slam in Pittsburgh and continues to perform on stages around the country. She and novelist Angie Cruz founded Aster(ix) Journal, a literary journal giving voice to the censored and the marginalized. Her debut full-length work of nonfiction, The Violence, is forthcoming from Scribner.
Sheila Squillante is the author of the poetry collections, Mostly Human, winner of the 2020 Wicked Woman Book Prize from BrickHouse Books, and Beautiful Nerve, as well as three chapbooks. Her fourth chapbook, Dear Sunder, will be published by dancing girl press in 2022, and her debut essay collection by CLASH Books in 2023. She directs and teaches in the MFA program in creative writing at Chatham University. She lives in Pittsburgh, PA, with a million houseplants, a messy perennial garden, tomato plants that hate her, a lizard, a bird, two dogs, two teenagers and a philosopher.
Marc Nieson's background includes children's theater, cattle chores, and a season with a one-ring circus. He's also a graduate of the Iowa Writers' Workshop and NYU Film School, and currently serves on the MFA faculty of Chatham University. His prose has earned two Pushcart Prize nominations, the Literal Latte Fiction Award, and a Raymond Carver Short Story Award. His memoir Schoolhouse: Lessons on Love & Landscape came out in 2016 and presently he's working on a novel, Houdini's Heirs. His award-winning feature-length screenplays include Speed of Life, The Dream Catcher, and Bottomland. Marc has made homes in NYC, Italy, Iowa, and Minnesota. He now resides in Pittsburgh with his wife, choreographer Beth Corning.

$19.99

ISBN: 9781948509367
Availability: On Our Shelves Now
Published: Ice Cube Press - July 1st, 2022
---