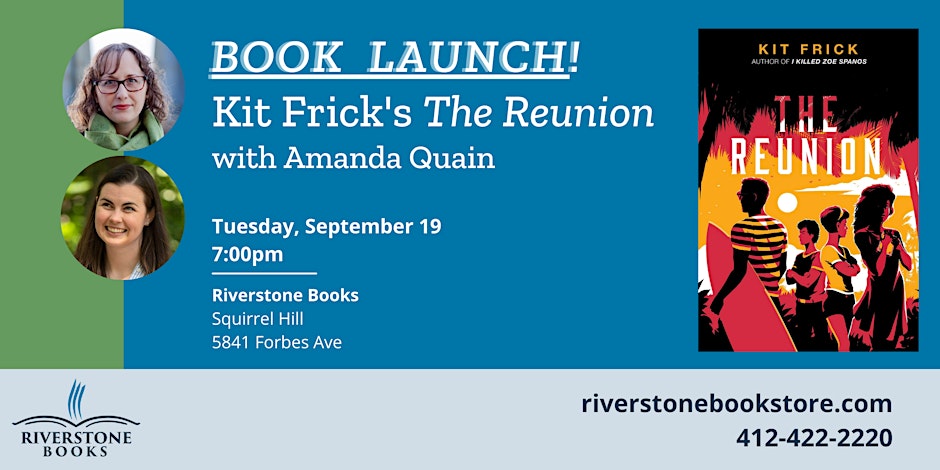 Riverstone Books is delighted to welcome back longtime friend Kit Frick to celebrate the launch of her new novel, The Reunion.
Eleven Mayweathers went on vacation. Ten came home.
It's been years since the fragmented Mayweather clan was all in one place, but the engagement of Addison and Mason's mom to the dad of their future stepbrother, Theo, brings the whole family to sunny Cancún, Mexico, for winter break. Add cousin Natalia to the mix, and it doesn't take long for tempers to fray and tensions to rise. A week of forced family "fun" reveals that everyone has something to hide, and as secrets bubble to the surface, no one is safe from the fallout. By the end of the week, one member of the reunion party will be dead—and everyone's a suspect:
The peacekeeper: Addison needs a better hiding place.
The outsider: Theo just wants to mend fences.
The romantic: Natalia doesn't want to talk about the past.
The hothead: Mason needs to keep his temper under control.
It started as a week in paradise meant to bring them together. But the Mayweathers are about to learn the hard way that family bonding can be deadly.
Kit Frick is a MacDowell fellow and ITW Thriller Award finalist from Pittsburgh, Pennsylvania. She studied creative writing at Sarah Lawrence College and received her MFA from Syracuse University. She is the author of multiple thrillers including, for young adults, Before We Were Sorry (originally published as See All the Stars), All Eyes on Us, I Killed Zoe Spanos, Very Bad People, and The Reunion, and for adults, The Split. She is also the author of the poetry collection A Small Rising Up in the Lungs. Kit loves a good mystery but has only ever killed her characters. Honest.
Amanda Quain is a writer, indie bookseller, and general life enthusiast. When she's not shouting about her favorite new books, she loves theatre, baking, rock climbing, marching band, and the overall pursuit of adventure. If forced to choose, Amanda's favorite Austen hero is Edward Ferrars, though she'll always have a soft spot for Mr. Bingley. She lives in Pittsburgh, Pennsylvania with her husband and her cat. She is the author of Accomplished and Ghosted.

$19.99

ISBN: 9781665921466
Availability: On Our Shelves Now
Published: Margaret K. McElderry Books - August 29th, 2023
From the author of I Killed Zoe Spanos comes a YA thriller in the vein of The White Lotus and Karen M. McManus's The Cousins following a doomed family reunion at a posh Caribbean resort, where old grudges and dangerous secrets culminate in murder.

Eleven Mayweathers went on vacation.
---

$12.99

ISBN: 9781534449749
Availability: On Our Shelves Now
Published: Margaret K. McElderry Books - April 4th, 2023
"A twisty, deeply satisfying ride." —Sara Shepard, #1 New York Times bestselling author of Pretty Little Liars

In this dark academia young adult thriller for fans of The Female of the Species and People Like Us, a teen girl's search for answers about her mother's mysterious death leads to a powerful secret society at her n
---

$12.99

ISBN: 9781534449718
Availability: On Our Shelves Now
Published: Margaret K. McElderry Books - June 8th, 2021
"A shivery delight." —People

For fans of Sadie and Serial, this "gloriously twisty" (BuzzFeed) thriller follows two teens whose lives become inextricably linked when one confesses to murder and the other becomes determined to uncover the real truth no matter the cost.

What happened to Zoe won't stay bur
---