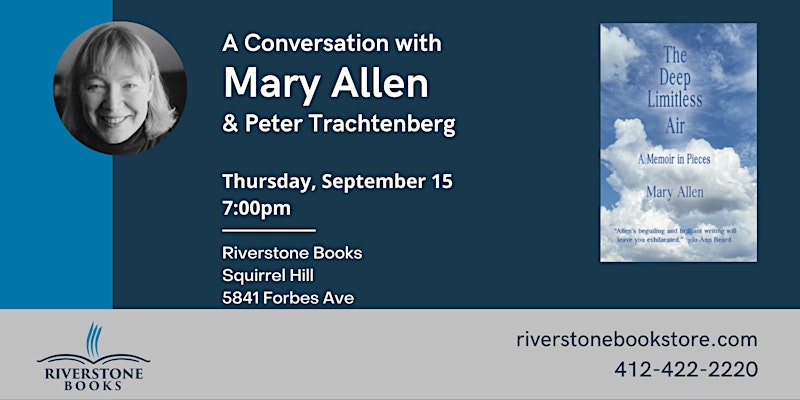 Mary Allen discusses her memoir-in-essays THE DEEP LIMITLESS AIR with author and Pitt professor Peter Trachtenberg
From Mary Allen, author of the acclaimed literary memoir, The Rooms of Heaven comes The Deep Limitless Air: A Memoir in Pieces, a beautiful, funny, warm, and heartbreaking book. In this tour-de-force collection of interconnected personal essays, written with startling simplicity and perfectly observed detail, Allen reflects on past loves, friends, life with and without family; on meditation, obsession, and insomnia; and on the humans and animals, spiritual questions and personal dilemmas that absorb her attention. In this collection, as Jo Ann Beard, author of Festival Days, has observed, Mary Allen illuminates "her own strange citizenship in the liminal realm of a disrupted childhood and the years that follow."
Written in a voice both humorous and perceptive, with earned wisdom and light-handed spirituality, Allen's essays are both readable and relatable. She poses and answers small and large narrative questions—How did the narrator get those honeybees in the hive while her rageful (and estranged) mother was watching from the house? How did she manage to fly to New York and give a speech when she had a phobia of flying and a phobia of public speaking, and how did she heal those phobias?
Together the linked essays in The Deep Limitless Air: A Memoir in Pieces echo and revisit personal questions that reveal an arc of evolving revelation and insight.
Mary Allen's The Rooms of Heaven was published by Alfred A. Knopf and Vintage Books. She is the recipient of a National Endowment for the Arts creative writing fellowship and a Paul Engle/James Michener Fellowship, and has published short work in Poets and Writers, Tiferet, Real Simple, Library Journal, The Chaos, CNN Online, and in the anthology If I Don't Make It, I Love You: Survivors in the Aftermath of School Shootings. She has an MFA from the Iowa Writers' Workshop and has taught in the University of Iowa's nonfiction writing MFA program, the Iowa Summer Writing Festival, and the Rhetoric Department at the University of Iowa. She currently earns a living as a writing coach and resides in Iowa City, Iowa.
Peter Trachtenberg is the author of Another Insane Devotion: On the Love of Cats and Persons; 7 Tattoos: A Memoir in the Flesh; and The Book of Calamities: Five Questions About Suffering and Its Meaning, which won the Phi Beta Kappa Society's 2009 Ralph Waldo Emerson Award for works that "contribute significantly to interpretations of the intellectual and cultural condition of humanity." Trachtenberg is an associate professor in the Writing Program at the University of Pittsburgh. He's now working on a novel about the catastrophic late-life bankruptcy of Ulysses S. Grant and a non-fiction book about the last bohemians in New York that will be published by Black Sparrow Press in 2022.

$20.00

ISBN: 9781421837154
Availability: Usually Ships in 1-5 Days
Published: Blue Light Press - April 20th, 2022
Mary Allen is the author of The Rooms of Heaven, published by Alfred A. Knopf and Vintage Books. She received a National Endowment for the Arts grant in 2002.
---