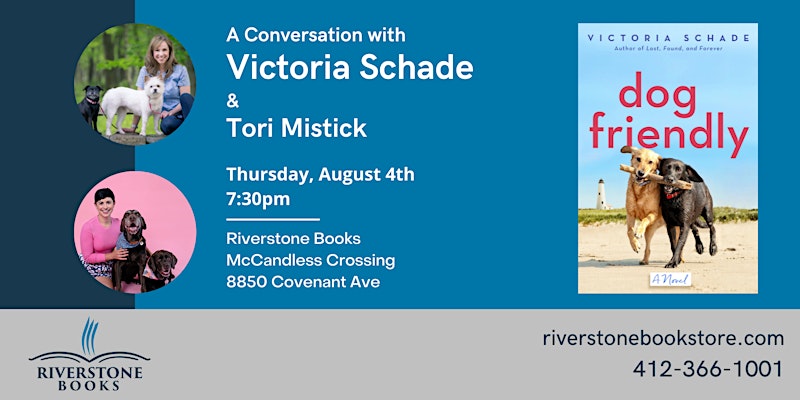 Dog-lovers & book-lovers unite to celebrate the fuzzy new romance, DOG FRIENDLY, by Victoria Schade, joined by dog influencer Tori Mistick
In Dog Friendly a burned-out veterinarian takes a much-needed beach vacation, where a charming surfer makes waves in her love life, and a unique foster pup renews her passion for her work.
And it's not just the book that's dog friendly. So is the event! Bring your pups out to play.
Victoria Schade has been a dog trainer and writer for over twenty years. During that time her dog duties have included working behind the scenes on Animal Planet's Puppy Bowl as the lead animal wrangler, appearing on two seasons of the Animal Planet show Faithful Friends, writing dog training content and appearing in educational videos for a variety of pet publications, as well as writing two dog training books, Bonding with Your Dog and Secrets of a Dog Trainer. Her works of fiction include Life on the Leash, Who Rescued Who, and Lost, Found, and Forever. Victoria shares her 1850s always-in-need-of-renovations Bucks County home with Millie the Smooth Brussels Griffon, Olive the mixed breed dog, the occasional foster pup, and her incredibly tolerant husband, Tom.
Tori Mistick is an influencer, podcaster and founder of the award-winning dog mom lifestyle brand Wear Wag Repeat. Her mission is to help women live their best life with dogs - as pet parents and petpreneurs! Her dog mom advice has been featured in BuzzFeed, Good Morning America and The Wall Street Journal. Tori is guardian to two chocolate labs, Lucy and Burt (who she adopted as a special needs senior dog). Their favorite Pittsburgh activities include discovering new hikes and checking out dog-friendly concerts at Hartwood Acres.