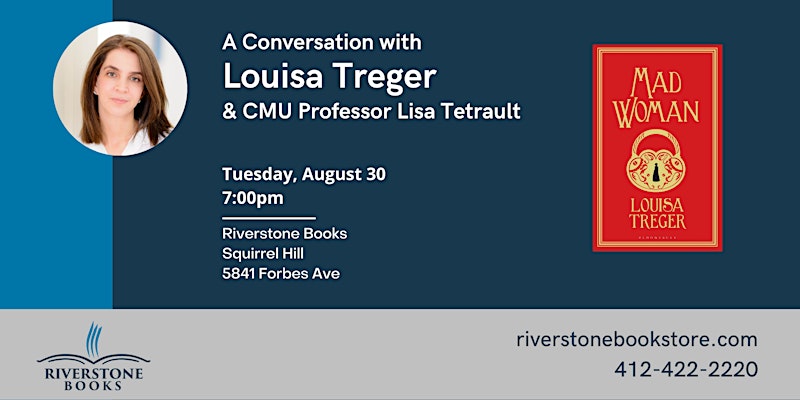 Join Louisa Treger and CMU professor Lisa Tetrault for a discussion of Treger's historical novel MADWOMAN based on the life of Nellie Bly
Based on a true story, a spellbinding historical novel about the world's first female investigative journalist, Nellie Bly.
In 1887, young Nellie Bly sets out for New York and a career in journalism, determined to make her way as a serious reporter, whatever that may take.
But life in the city is tougher than she imagined. Down to her last dime and desperate to prove her worth, she comes up with a dangerous plan: to fake insanity and have herself committed to the asylum on Blackwell's Island. There, she will work undercover to expose the asylum's wretched conditions.
But when the asylum door swings shut behind her, she finds herself in a place of horrors, governed by a cruelty she could never have imagined. Cold, isolated and starving, her days of terror reawaken the traumatic events of her childhood. She entered the asylum of her own free will - but will she ever get out?
An extraordinary portrait of a woman ahead of her time, Madwoman is the story of a quest for the truth that changed the world.
Louisa Treger has a PhD in English from University College London, focusing on early-twentieth-century women's writing. She is the author of The Dragon Lady and lives in London.
Lisa Tetrault is associate professor of history at Carnegie Mellon University. She specializes in the history of gender, race, and American democracy, with a focus on social movements and memory. Her first book, The Myth of Seneca Falls: Memory and the Women's Suffrage Movement, 1848-1898 won the Organization of American Historians' inaugural Mary Jurich Nickliss women's history book prize.

$27.00

ISBN: 9781448218011
Availability: On Our Shelves Now
Published: Bloomsbury Publishing - August 23rd, 2022
"A magnificent portrayal of Nelly Bly in all her journalistic integrity and daring." --New York Journal of Books

"The perfect example of the power of an individual to question, and change, the status quo." --Christian Science Monitor

Based on a true story, a spellbinding historical novel about the world's first female investigative journalist, Nellie Bly.
---

$14.00
Email or call for price.
ISBN: 9781448217403
Published: Bloomsbury Caravel - May 12th, 2020
In a period of civil unrest before the War of Liberation, a wealthy and influential couple leave Britain to make a new life in 1950s Rhodesia.

---

$39.00

ISBN: 9781469633503
Availability: Usually Ships in 1-5 Days
Published: University of North Carolina Press - February 1st, 2017
The story of how the women's rights movement began at the Seneca Falls convention of 1848 is a cherished American myth. The standard account credits founders such as Elizabeth Cady Stanton, Susan B. Anthony, and Lucretia Mott with defining and then leading the campaign for women's suffrage.
---