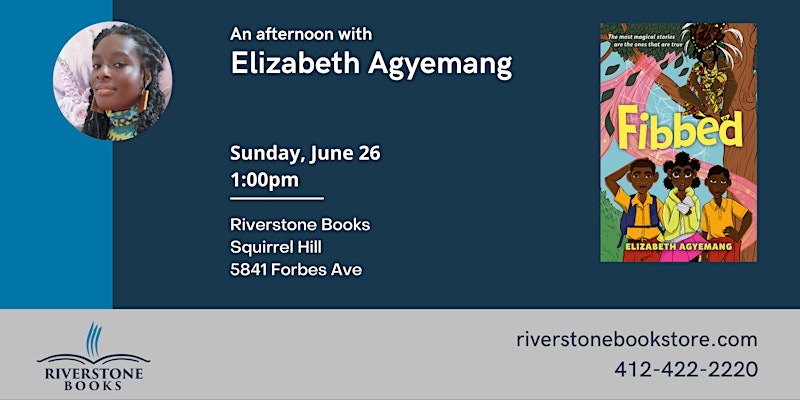 Join debut middle-grade author Elizabeth Agyemang for an afternoon of outlandish tales celebrating her graphic novel, FIBBED
Elizabeth Agyemang's debut, a middle-grade graphic novel, is "Thoughtful metafiction with an unshakeable cultural richness." —Kirkus Reviews
Everyone says that the wild stories Nana tells are big fibs, even though they're the truth! And when another outlandish explanation lands her in hot water again, her parents announce that Nana will be spending the summer with her grandmother in Ghana. She isn't happy to be missing the summer camp she's looked forward to all year, or to be living with family that she barely knows. But all her worries get a whole lot bigger—literally—when she comes face-to-face with Ananse, the trickster spider of legend. Nana soon discovers that the forest around the village is a place of magic watched over by Ananse. But a group of greedy contractors are draining the magic from the land, intent on selling the wishes for their own gain. Nana must join forces with her cousin Tiwaa, new friend Akwesi, and Ananse himself to save the magic from those who are out to steal it before the magic—and the forest—are gone for good.
Elizabeth Agyemang is an illustrator, printmaker, and storyteller. She writes about magic, history, folklore, love, and fairy tales, and draws from elements of her Ghanaian heritage and faith. Find her on Twitter and Instagram @onceAddai

$22.99

ISBN: 9780593204887
Availability: On Our Shelves Now
Published: Razorbill - June 7th, 2022
"Elizabeth Agyemang smartly weaves culture, adventure, and a little magic into a dynamic story about stories. Agyemang's colorful illustrations breathe life into Nana's journey as she connects with her roots and learns to believe in her own voice.
---