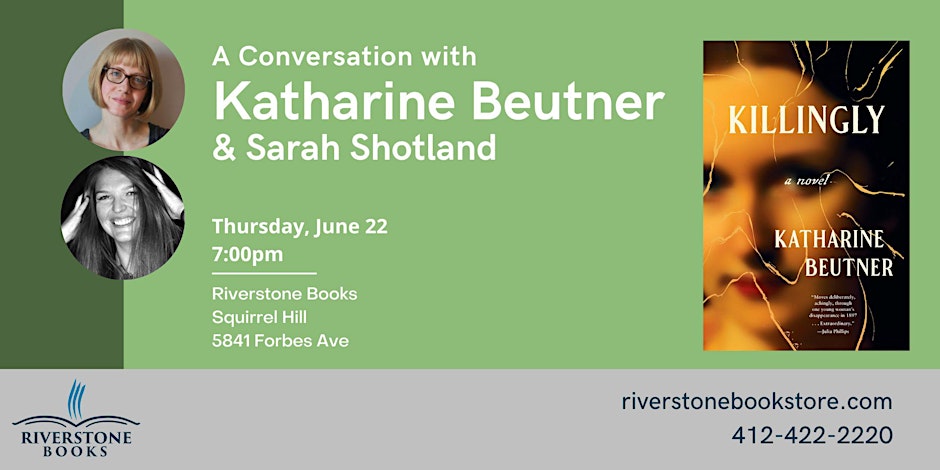 Award-winning author Katharine Beutner comes to Riverstone Books for a conversation with Sarah Shotland. Beutner's new novel, Killingly, is a gripping read and an unforgettable historical portrait of academia, family trauma, and the risks faced by women who dared to pursue unconventional paths at the end of the 19th century.
Katharine Beutner is an assistant professor of English at the College of Wooster in Ohio; previously, she taught at the University of Hawaii at Mānoa. She earned a BA in Classical Studies at Smith College and an MA in English (creative writing) and a PhD in English literature at the University of Texas at Austin. Her first novel, Alcestis, won the Edmund White Debut Fiction Award and was a finalist for other awards, including the Lambda Literary Association's Lesbian Debut Fiction Award. Her writing has appeared in Tinfish, The Los Angeles Review of Books, Public Books, The Toast, TriQuarterly, Humanities, and other publications. Recently, she received an Ohio Arts Council Individual Excellence Award. She is the editor in chief of The Dodge, a magazine of eco-writing and translation.
Sarah Shotland is the author of the novel Junkette and the nonfiction project Abolition is Everything. Her work has been published in The Iowa Review, Baltimore Review, Creative Nonfiction and elsewhere. She is the Program Director of Madwomen in the Attic at Carlow University where she is Assistant Professor of English.

$27.95

ISBN: 9781641294379
Availability: On Our Shelves Now
Published: Soho Crime - June 6th, 2023
Based on the unsolved real-life disappearance of a Mount Holyoke student in 1897—a haunting novel of intrigue, longing, and terror, perfect for fans of Donna Tartt and Sarah Waters

Massachusetts, 1897: Bertha Mellish, "the most peculiar, quiet, reserved girl" at Mount Holyoke College, is missing.

---

$11.99

ISBN: 9780988445925
Availability: Usually Ships in 1-5 Days
Published: White Gorilla Press - June 28th, 2014
Junkette is the story of Claire Cunningham, a woman navigating disasters- natural and of her own making. Claire is a bartender in pre-Katrina New Orleans, a college graduate whose heroin addiction parallels the swirling fortunes of her sinking city. She knows she needs to get clean, but despite being smart enough to see all the angles, she can't quite find a way out.
---