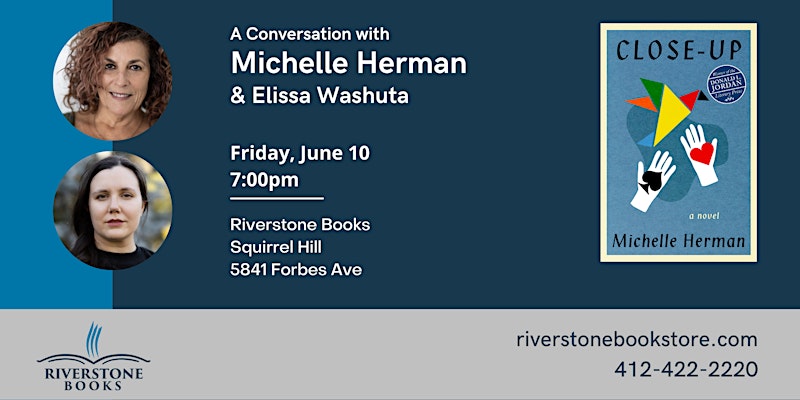 Join mid-western writers Michelle Herman and Elissa Washuta for a conversation celebrating Michelle's new novel CLOSE-UP
Close-Up artfully renders how the lives of a successful young magician and his father, a famous novelist, intertwine with the lives of an aspiring poet, her mother, and the poet's mentor. In this robust, expansive novel, we follow Jacob, Martin, Caroline, Jeanie, and Jill as they experience rifts and reconciliations, struggling to make sense of themselves and each other. This is a family story only Michelle Herman could write: of missed connections, old grievances, loneliness, longing, and redemption.
Michelle Herman is the author of three previous novels—Missing, Dog, and Devotion—and the novella collection A New and Glorious Life, as well as three essay collections—The Middle of Everything, Stories We Tell Ourselves (longlisted for the 2014 PEN/Diamonstein-Spielvogel Award for the Art of the Essay), and Like A Song (winner of the 2016 Devil's Kitchen Reading Award)—as well as a book for children, A Girl's Guide to Life. She has taught creative writing since 1988 at Ohio State, where she also directs a graduate interdisciplinary program in the arts and an all-scholarship summer writing program for teenagers in Columbus, Ohio.
Elissa Washuta is a member of the Cowlitz Indian Tribe and a nonfiction writer. She is the author of White Magic, My Body Is a Book of Rules, and Starvation Mode. With Theresa Warburton, she is co-editor of the anthology Shapes of Native Nonfiction: Collected Essays by Contemporary Writers. She has received fellowships and awards from the National Endowment for the Arts, Creative Capital, Artist Trust, 4Culture, and Potlatch Fund. Elissa is an assistant professor of creative writing at the Ohio State University.