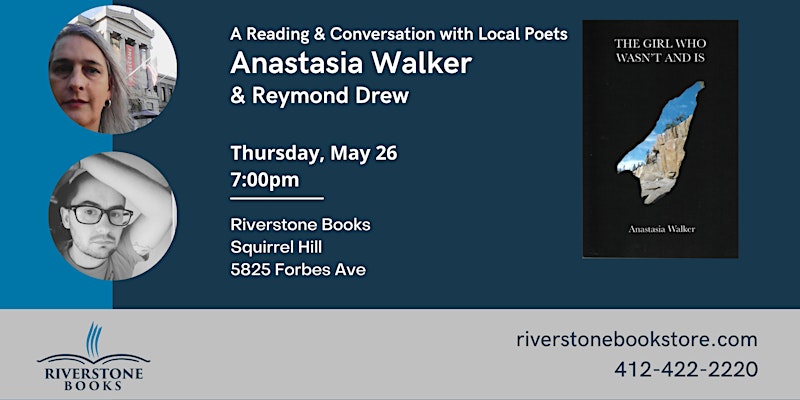 Join local artists Anastasia Walker and Reymond Drew for a reading and conversation about their debut books of poetry
The Girl Who Wasn't and Is, Anastasia Walker's first book of poetry, is a deeply personal work and a meditation on community, history, and the natural world. In a series of poems and a closing autobiographical essay, the poet embraces her identity as a transgender woman through a harrowing, wonder-full journey from her childhood on the Maine coast to her post-transition life in Pittsburgh, Pennsylvania. Original photos and drawings, and the interspersed stories of family and friends, community members, historical and mythological figures, and the allied struggles of others create a broad sense of connection. The Girl Who Wasn't and Is is a rich mosaic that invites readers to a conversation about death and life, despair and hope, time and memory, and the perennial complexities of love.
Maine native Anastasia Walker is a poet, essayist, and scholar who for the past decade has called Pittsburgh home. Her poems have appeared in several journals, and her first book of poetry, The Girl Who Wasn't and Is, was published in February 2022. Her essays have appeared in Shenandoah, Fourth Genre, and The Rambling. She has blogged on politics, social media, and LGBTQ+ issues for both Huffington Post and Medium. She has lived in New York City, Philadelphia, Austin (TX), Birmingham (AL), and Edinburgh (Scotland), among other places. Anastasia is a proud member of her community's Indivisible group, a passionate amateur photographer and musicologist, and a lover of long walks and (when she visits home in the summers) swimming in the ocean.
Reymond Drew is an lg[bt]q poet, tra$h edm dj, mystic, and recently unemployed former zamboni driver. He was born and raised in Wyano, the weirdest Westmoreland County town you've never heard of. He has been previously published in various books and publications, and recently is celebrating the release of his debut collection of poetry. 20 Attempts at Grieving (Bookleaf Publishing, Jan 2022) is an expression of collective grieving for humanity, as told through the experience of a son losing his mother.

$20.00

ISBN: 9781950231942
Availability: Usually Ships in 1-5 Days
Published: bd-studios.com - February 4th, 2022
---