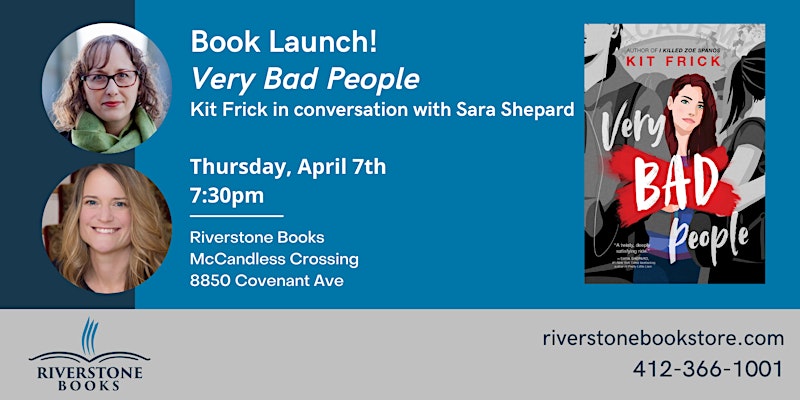 We are thrilled to be hosting Pittsburgh's favorite YA authors, Kit Frick and Sara Shepard, again! This time they're sharing a conversation to celebrate the publication of Kit's newest book, Very Bad People. Join us for an evening of twists and turns and thrills as Kit and Sara talk about how they make their books so unputdownable.
In Very Bad People a teen girl's search for answers about her mother's mysterious death leads to a powerful secret society at her new boarding school—and a dangerous game of revenge that will leave her forever changed. This dark academia young adult thriller is perfect for fans of The Female of the Species and People Like Us.
Kit Frick is a MacDowell fellow and ITW Thriller Award finalist from Pittsburgh, Pennsylvania. She studied creative writing at Sarah Lawrence College and received her MFA from Syracuse University. The author of the poetry collection A Small Rising Up in the Lungs and the young adult thrillers Before We Were Sorry (originally published as See All the Stars), All Eyes on Us, I Killed Zoe Spanos, and Very Bad People, Kit loves a good mystery but has only ever killed her characters. Honest.
Sara Shepard is the author of two New York Times bestselling series, Pretty Little Liars and The Lying Game, as well as the series The Perfectionists. She graduated from New York University and has an MFA from Brooklyn College. She has lived in New York City, Brooklyn, Tucson, Arizona, Philadelphia, and now lives in Pittsburgh, PA.