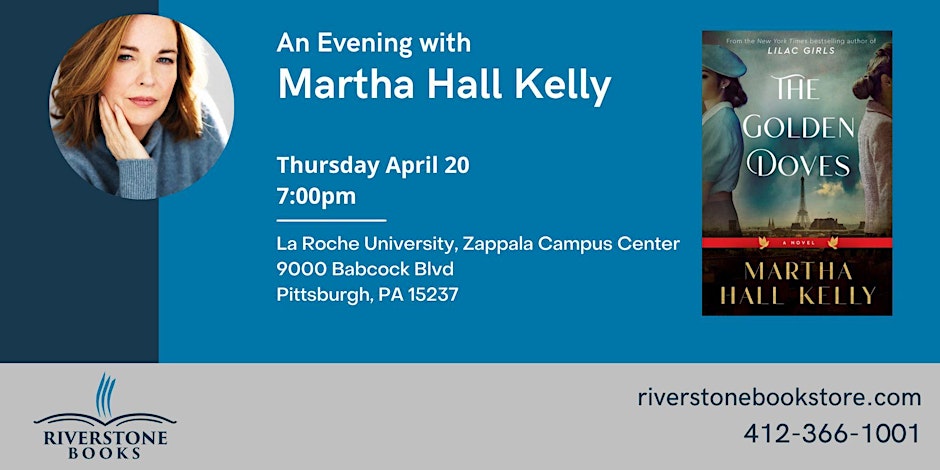 Join Riverstone Books and NY Times best-selling author Martha Hall Kelly for an evening dedicated to her new novel of WWII
Two former female spies, bound together by their past, risk everything to hunt down an infamous Nazi doctor in the aftermath of World War II in this extraordinary novel inspired by true events.
American Josie Anderson and Parisian Arlette LaRue are thrilled to be working in the French resistance, stealing so many Nazi secrets that they become known as the Golden Doves, renowned across France and hunted by the Gestapo. Their courage will cost them everything. When they are finally arrested and taken to the Ravensbrück concentration camp, along with their loved ones, a reclusive Nazi doctor does unspeakable things to Josie's mother, a celebrated Jewish singer who joined her daughter in Paris when the world seemed bright. And Arlette's son is stolen from her, never to be seen again.
A decade later the Doves fall headlong into a dangerous dual mission: Josie is working for U.S. Army intelligence and accepts an assignment to hunt down the infamous doctor, while a mysterious man tells Arlette he may have found her son. The Golden Doves embark on a quest across Europe and ultimately to French Guiana, discovering a web of terrible secrets, and must put themselves in grave danger to finally secure justice and protect the ones they love.
Martha Hall Kelly is the New York Times bestselling author of Lilac Girls, Lost Roses, and Sunflower Sisters. With more than two million copies of her books sold and her books translated in fifty countries, Martha lives in Connecticut and New York City.