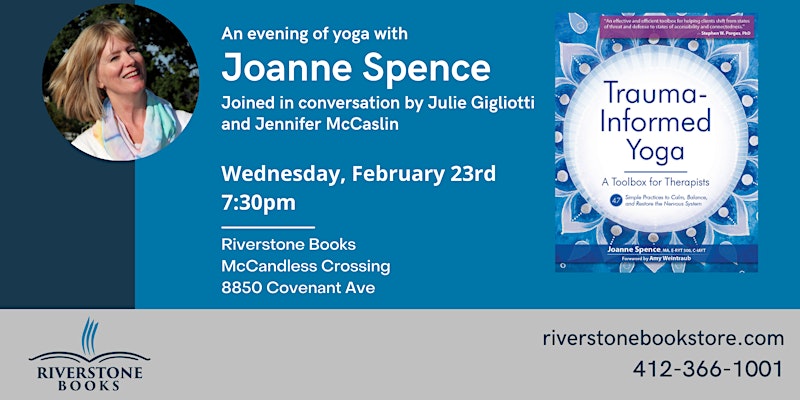 Joanne Spence and other Pittsburgh therapists will discuss the use of gentle movement and breath work in the context of a "talk" therapy. Joanne will lead a short chair yoga practice as part of the evening. All are welcome to participate. No yoga experience necessary.
Joanne will be joined by Julie Gigliotti, MA, LPC and Jennifer McCaslin, MA, LPC
---
Although many forms of trauma treatment rely solely on talk therapy as a means of healing, we cannot talk out every issue related to trauma. Indeed, trauma is stored in the body and the brain and must be treated as such.
Designed with both mental health clinicians and clients in mind, Trauma-Informed Yoga offers 47 short, simple practices that regulate the autonomic nervous system, calm the racing mind, and center those of us living chaotic 21st century lives.
Drawing from over 20 years of teaching and clinical practice, Spence masterfully weaves together the ancient wisdom of yoga with modern neuroscience and clinical practice in an accessible and compassionate manner.
This how-to toolbox will arm you with knowledge and with powerful, yet simple, mind-body activities that reduce suffering and increase well-being.
Joanne Spence, MA, E-RYT 500, C-IAYT, is a recovering social worker and certified yoga therapist. She has a Social Work degree from James Cook University and a Master of Arts from Pittsburgh Theological Seminary. She is the founder and executive director of Yoga in Schools.
Joanne trains and teaches all sorts of amazing people, both nationally and internationally, in yoga. She has taught yoga in prisons, hospitals, schools, churches, and sometimes on street corners. She specializes in working with adults and children who are experiencing chronic pain, trauma, depression, anxiety, ADHD, and insomnia.
Joanne draws on more than thirty-five years of clinical experience as a mental health professional and twenty years as a teacher and practitioner of yoga, including ten years as the first yoga therapist at Western Psychiatric Institute and Clinic. She is in private practice as a yoga therapist and a spiritual director at Urban Oasis Pittsburgh and works with veterans on several behavioral health units in Pittsburgh teaching therapeutic chair yoga. In addition, Joanne leads in-person and online trainings on yoga, mental health, trauma, and contemplative practices.
Joanne has co-authored several published articles as well as a chapter in Stories of School Yoga: Narratives from the Field, and she was a contributor to Best Practices for Yoga in Schools. Joanne likes nothing more than to demonstrate the inclusive nature of yoga practice; if you can breathe, you can do yoga.
Joanne has been married to Doug for over thirty years. Together, they have three adult children, all of whom practice yoga! When she is not teaching, Joanne loves to read, write, hike, travel, cook, and even dance a little—just not all at the same time.
Julie Gigliotti practices with the Christian Counselors Collaborative treating those with anxiety and loss. Julie's training in sex therapy opens doors of hope for teens, adults and couples with sexual trauma from a wellness and faith-based perspective. Julie is a mother and grandmother of five.
Jennifer McCaslin is a Licensed Professional Counselor with a private practice in Squirrel Hill. She believes that we are all capable of change when we have the proper and appropriate tools to assist us. Jen has 17 years of experience helping people of all ages address areas they'd like to change. These areas include anxiety, focus and attention, depression, and trauma, as well as family and relationship issues. Jen is trained in EMDR (eye movement desensitization and reprocessing) and uses this modality to address trauma, anxiety, and depression. Jen loves her work and is passionate about helping people grow and change.

$29.99

ISBN: 9781683733461
Availability: Usually Ships in 1-5 Days
Published: PESI Publishing & Media - March 9th, 2021
---