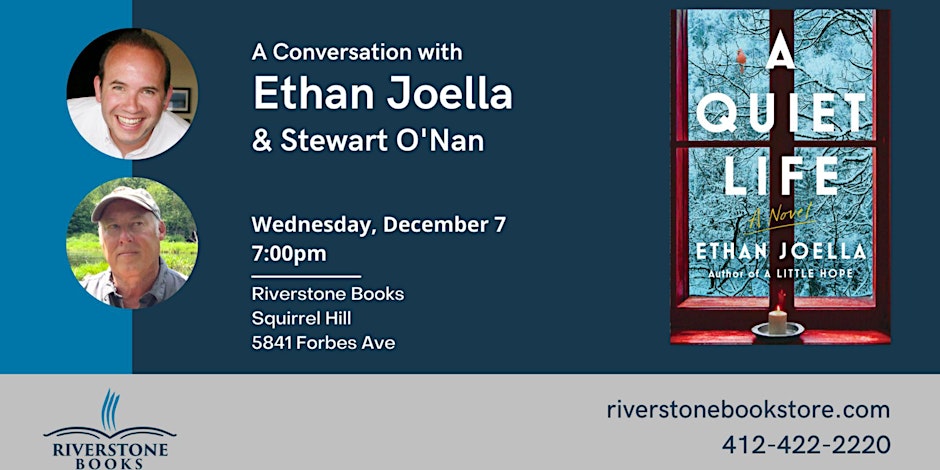 Pennsylvania native Ethan Joella will be joined by hometown favorite Stewart O'Nan to celebrate Joella's new novel, A QUIET LIFE
From the author of A Little Hope—a Read with Jenna Bonus Pick—comes an enormously powerful and life-affirming novel about three individuals facing challenges and grappling with loss in his or her own way.
Chuck Ayers can't decide if he should make the trip to Hilton Head this winter without his wife, Cat. Cat died in the spring, and though he cannot bear another moment of being alone in their home, the thought of making the familiar journey without her—not stopping at their favorite lunch spot or listening to her beloved Broadway tunes on the way, not sitting on the beach or playing cards once there—is unimaginable.
Ella Burke delivers newspapers and works at a bridal shop to pass the time while she waits for news—any piece of information—about her missing daughter. She adjusts to life in a new apartment and answers every call on her phone, thinking her daughter will reach out one day.
Kirsten Bonato works at an animal rescue shelter and thinks daily about her father who was killed in a convenience store robbery. Once on track to become a veterinarian, Kirsten now feels lost and unmoored. But her complicated feelings for two of her colleagues are a distraction from her pain.
The lives of these three individuals intersect in unforeseen ways, as each character bravely presses onward, trying to recover something they have lost. Tender, emotionally powerful, and infused with hope, A Quiet Life explores how grief shapes our choices and shows that no matter how dark the most difficult moments in life can be, our humanity and capacity for forgiveness shine through.
Ethan Joella grew up in northeastern Pennsylvania. He teaches English and psychology at the University of Delaware and specializes in community writing workshops and online instruction. His work has appeared in River Teeth, The Cimarron Review, The MacGuffin, Delaware Beach Life, and Third Wednesday. He lives in Rehoboth Beach, Delaware, with his wife and two daughters.
Stewart O'Nan's award-winning fiction includes Snow Angels, A Prayer for the Dying, Last Night at the Lobster, and Emily, Alone. Granta named him one of America's Best Young Novelists. He lives in Pittsburgh.