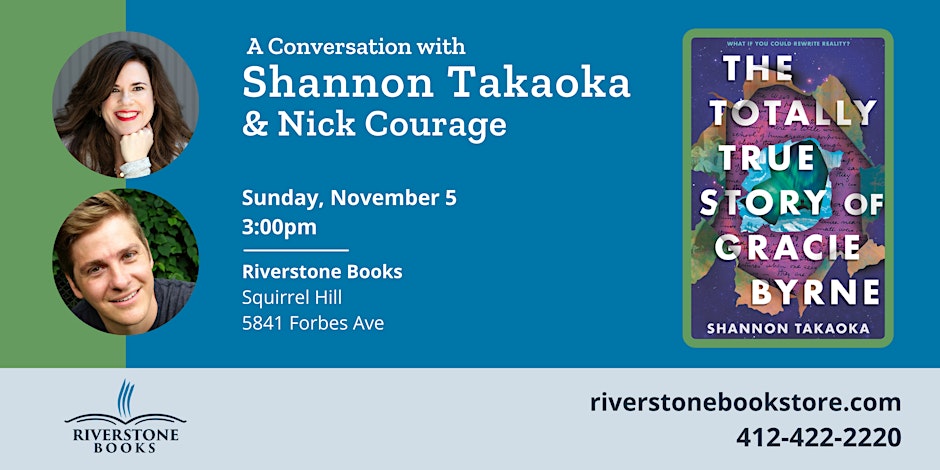 Pittsburgh-born Shannon Takaoka comes to Riverstone to discuss her new YA novel, The Totally True Story of Gracie Byrne, with Nick Courage
It's 1987, and sixteen-year-old Gracie Byrne wishes her life were totally different. Shy and awkward, she has trouble fitting in at her new school, she's still reeling from her parents' divorce, and her grandmother Katherine's Alzheimer's is getting worse. So when Gracie finds a blank journal in Katherine's vanity drawer, she begins writing stories about herself—a more popular version of herself, that is. But then the hot guy in her art class describes a dream he had about her—the exact scene she wrote about him in her journal—and Gracie realizes that she can create any reality she wants, from acing tests to winning the attention of her previously indifferent classmates. As her ability to change what is into what she wishes it to be grows stronger, though, Gracie starts to second-guess what's real—especially when it comes to a budding relationship with her cute neighbor, Tom. This compelling story deftly blends friendship, family, and romance . . . and bends the bounds of reality itself.
Shannon Takaoka is the author of the young adult novel Everything I Thought I Knew, which was a 2021 Kansas National Education Association Reading Circle Recommended Title and a 2022 TAYSHAS Reading List Selection. She lives in the San Francisco Bay Area with her family, where she also works as a business writer and editor.
Nick Courage is a New Orleans-born writer who currently lives in Pittsburgh, Pennsylvania with his wife (the novelist and literary agent Rachel Ekstrom Courage) and their dog, Chaely. When he's not writing his own books, he's a partner and creative director at Courage Literary.

$19.99

ISBN: 9781536228786
Availability: Coming Soon - Available for Pre-Order Now
Published: Candlewick - October 31st, 2023
Gracie feels like a minor character in her own life story—until a mysterious journal turns her fictional stories into reality.

---

$14.99

ISBN: 9781536222876
Availability: Coming Soon - Available for Pre-Order Now
Published: Candlewick - October 10th, 2023
A teenage girl wonders if she's inherited more than just a heart from her donor in this compulsively readable debut.

---