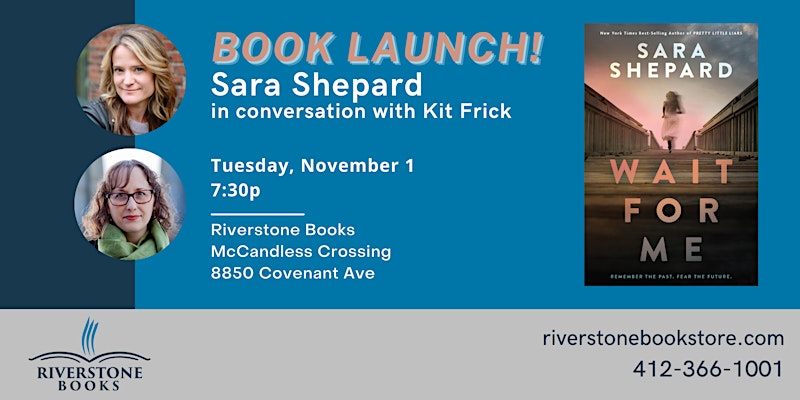 Come celebrate the release of Sara Shepard's latest edge-of-your-seat novel, WAIT FOR ME
Riverstone Books is absolutely delighted to welcome back two of our favorite people for a thrilling discussion about Sara Shepard's newest novel, Wait for Me. Sara and Kit's conversations are always fascinating and fun, and unearthing the mysteries of Wait for Me with them (on the day after Halloween no less!) is sure to be an eerily good time.
Sara is happy to personalize online orders! Just leave a note when you check-out saying who you want it made out to.
Who is Casey Rhodes? Is she a no-nonsense realist or a hopeless romantic? A just-getting-by scholarship student or a sometimes-Cinderella dating the cool, cultured heir to a media empire and New York City's most eligible? At seventeen years old and already in her sophomore year at NYU, Casey sheds disguises effortlessly. It's how she navigates school and avoids the second-guessing that's plagued her since she and her boyfriend Marcus got together. But then Casey starts hearing voices that terrify her so badly she flees to the remote beach town of Avon where she can sort through her thoughts and reset. But the voices only get more intense and are now accompanied by visions of places she's never been and people she's never met, like Jake who's lived in Avon his whole life. There's no way Casey could know him, yet she feels an immediate connection. And, crazier still: he feels it too. Together they search for answers, finding only questions—about their connection, Avon, Casey's memories . . . And whose voice is she hearing inside her head?
Sara Shepard is the #1 New York Times bestselling author of the sixteen-book Pretty Little Liars series, which has sold millions of copies worldwide, has been translated into more than twenty different languages, and became a popular TV show on Freeform. She's also the author of The Perfectionists and The Lying Game, which also were TV series, as well as The Amateurs series, and several books for adults including The Heiresses, Reputation, and The Elizas. She's written more than thirty novels in total and is also active in the screenwriting and podcasting spaces.
Kit Frick is a MacDowell fellow and ITW Thriller Award finalist from Pittsburgh, Pennsylvania. She studied creative writing at Sarah Lawrence College and received her MFA from Syracuse University. The author of the poetry collection A Small Rising Up in the Lungs and the young adult thrillers Before We Were Sorry (originally published as See All the Stars), All Eyes on Us, I Killed Zoe Spanos, Very Bad People, and The Reunion, Kit loves a good mystery but has only ever killed her characters. Honest.