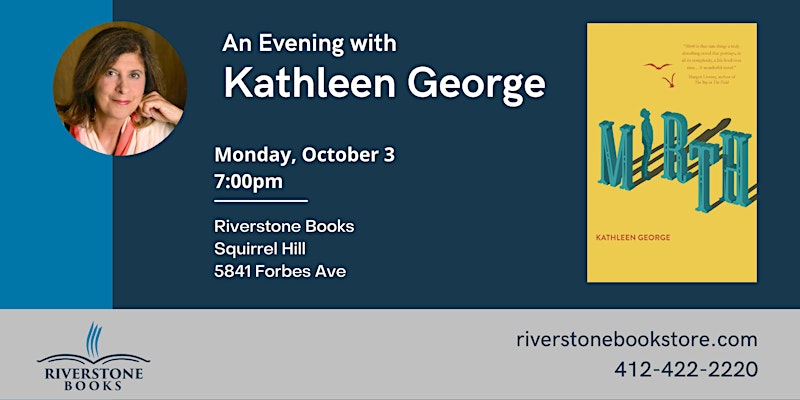 Local Author and Pitt Professor Kathleen George visits Riverstone Books for an evening celebrating her new novel, MIRTH
Mirth chronicles the struggles of a writer, Harrison Mirth, a romantic man who writes about love and tries to find it through three marriages, in three cities, and always with renewable hope.
Kathleen George was born in Johnstown Pennsylvania. As a child, she wanted to be a writer. She wrote stories and plays in high school and in her undergraduate years as a creative writing major at the University of Pittsburgh. She went on to earn a Ph.D. in Theatre (also at Pitt). By then she had made her home in Pittsburgh. For eight years she taught theatre at Carlow College, where she directed many plays. Then she accepted a teaching position at Pitt where she continued to direct and teach dramatic literature and playwriting; in the early 80s, she began to add fiction writing back into the mix. In 1988, she earned an M.F.A. degree in Creative Writing (also at Pitt!) on the side. She is a Professor in the Theatre Arts Department. She is the author of acclaimed novels including The Odds (nominated for an Edgar® award for best novel by the Mystery Writers of America), The Johnstown Girls (about the Johnstown Flood), and The Blues Walked In, a novel about Lena Horne and jazz.