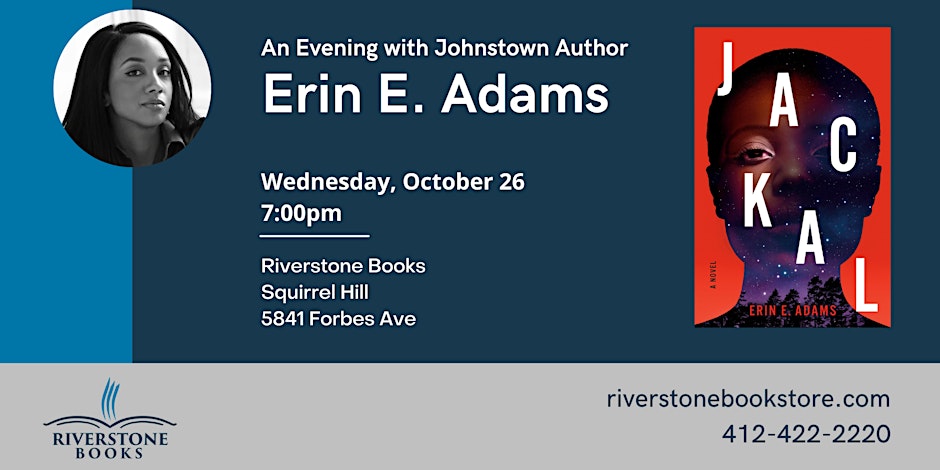 Playwright, Author, and Actress Erin E. Adams visits Riverstone to discuss her debut novel, JACKAL, set in Johnstown, Pennsylvania
A young Black girl goes missing in the woods outside her white Rust Belt town. But she's not the first—and she may not be the last. ...
Liz Rocher is coming home . . . reluctantly. As a Black woman, Liz doesn't exactly have fond memories of Johnstown, Pennsylvania, a predominantly white town. But her best friend is getting married, so she braces herself for a weekend of awkward and passive-aggressive reunions. Liz has grown, though; she can handle whatever awaits her. But on the day of the wedding, somewhere between dancing and dessert, the bride's daughter, Caroline, goes missing—and the only thing left behind is a piece of white fabric covered in blood. As a frantic search begins, with the police combing the trees for Caroline, Liz is the only one who notices a pattern: a summer night. A missing girl. A party in the woods. She's seen this before. As Liz starts to dig through the town's history, she uncovers a horrifying secret about the place she once called home. Children have been going missing in these woods for years. All of them Black. All of them girls.
With the evil in the forest creeping closer, Liz knows what she must do: find Caroline, or be entirely consumed by the darkness.
Erin E. Adams is a first-generation Haitian-American who grew up in a small mountain town in Pennsylvania. Her written work traffics in the worlds of myth, tales of fantasy, horror, and science fiction. (Yeah, she's a genre lady!) There are so many people who are made to feel invisible, purely because they don't fit the stories told about them. Erin's work as an artist strives to widen that narrow narrow foot path.

$27.00

ISBN: 9780593499306
Availability: On Our Shelves Now
Published: Bantam - October 4th, 2022
A young Black girl goes missing in the woods outside her white rust belt town. But she's not the first—and she may not be the last. . . .

"I read this thriller that is Get Out meets The Vanishing Half in one night."—BuzzFeed

---