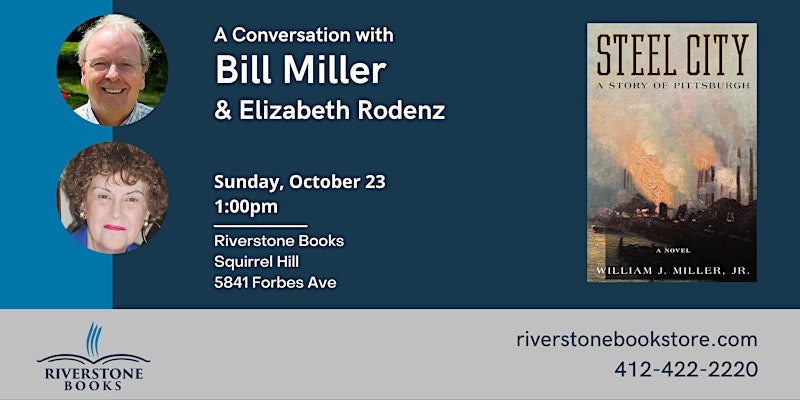 Join Bill Miller and Elizabeth Rodenz for an evening discussing the allure of historical Pittsburgh in fiction.
Steel City is the story of the 1890's golden age of Pittsburgh when its technological innovations and wealth creation made it the Silicon Valley of its day. Amid this fevered atmosphere Jamie Dalton, a recent Yale graduate and son of a corporate lawyer, must decide whether to accede to his father's wishes and pursue a career in law or the steel business, or follow his own instincts and become a newspaperman.
William J. Miller, Jr. grew up in Pittsburgh and was always fascinated by the living connections to its storied past: the Carnegie Library and Museum, the Carnegie Institute of Technology, and, in his own neighborhood, the Frick mansion, where Henry Frick's daughter, Helen, still lived. Mr. Miller spent his entire career in journalistic enterprises as reporter, publisher, blogger, and Time Inc. consumer marketing veteran. He graduated from the Hotchkiss School and Trinity College, Hartford, CT and lives in Watch Hill, RI with his wife, Warren, and Havanese, Jake. Steel City is his first novel.
Elizabeth Rodenz was born in a coal patch near Irwin, Westmoreland County, Pennsylvania. She grew up listening to her parents tell stories about their lives in a similar coal patch and that of coal miners and their families. Since she left that coal patch, she has traveled many roads—that of an educator, editor, executive coach, workshop facilitator, management consultant, entrepreneur, and writer/author. Yet, she has never forgotten those stories and how that time in her life helped ease her many journeys. Her books include Josephine: A Woman of Indomitable Spirit, inspired by the life of her great-grandmother, and Samson and Delilah: My Two Loves, the heart-warming story of two beagles Elizabeth and her husband rescued hours before being euthanized. Elizabeth currently writes memoir, poetry, and fiction and helps people build bridges in their lives through her workshops and classes based on the body of work of Swiss psychologist, Carl Jung.